So I've been way behind in posting my mail calls!! Sorry! Please let me know what you've been getting~
Here is my Twix coupon from the Pick your Pause game a few weeks ago on Facebook!
Here are my samples of the new Body Fragrance (i think it's by Burberry)
Cute & colorful pads and tampons!
Splenda sample and coupon!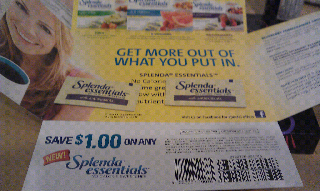 And by far one of the best sample packs I have ever gotten: Dry Shampoo (my mom said the residents in the nursing home can use this), mens body wash and the awesome smelling Sweet Pea lotion. It also came with coupons for all products *found other coupon after picture was taken!